World Champ Edrin Dapudong
Taps 2 Jr. Featherweights As Spar Mates
By Manny Piņol with PhilBoxing.com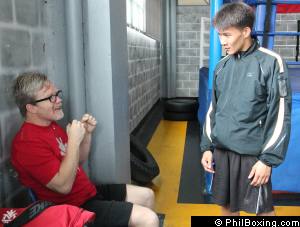 Kidapawan City – North Cotabato's first world professional boxing champion Edrin "The Sting" Dapudong gets into the tough phase of his preparation for his first title defense next week starting sparring sessions with two veteran and bigger junior featherweights.
Dapudong, 27, who will defend his International Boxing Organization (IBO) Junior Bantamweight title on Nov. 9 against former Olympian Zolani Tete of South Africa, has engaged as sparring partners Eric Barcelona and Mark Anthony Geraldo of the Lazarito Boxing Club from the neighboring province of Bukidnon.
Barcelona and Geraldo, who are both southpaws like Tete, weigh about 4 kilos heavier than the righthanded Dapudong.
The Nov. 9 event to be held at the Emperor's Palace Resort and Casino in Johannesburg will be Dapudong's first defense of the IBO title he won by a spectacular first round knockout of South African champion Gideon Buthelezi on June 15 this year.
Tete, who is tall at about 5′ 7″ compared to the 5′ 5″ Dapudong, is a very shifty fighter who uses his long reach to outpoint or knockout his opponent.
With only two losses in 17 professional bouts, Tete has a very high knockout ratio with 12 out of his 15 wins.
Dapudong, who is more experienced than Tete as a professional, has a record of 29 wins with 17 knockouts and five defeats.
The Filipino champion, a product of a grassroots boxing program in North Cotabato, started his light training as early as last month running long distances early in the morning at the foot of Mt. Apo, the country's tallest peak.
With two months to go before the fight, he will start with light sparring with sparmates Barcelona and Geraldo this week.
As in his second fight against Buthelezi, the first having ended in a controversial split decision loss, Dapudong understands the perils of fighting in South Africa which is notorious for hometown decisions.
By knockout Buthelezi last June, Dapudong became the first Filipino boxer ever to win a world title in South Africa after 24 attempts.
North Cotabato's first world champion is aiming for a repeat of his spectacular knockout victory when he returns to Johannesburg in November.
Dapudong, who earlier planned to train in the US or Mexico, will instead train in the simple Braveheart Boxing Club farm gym in Barangay Paco, Kidapawan City.
He is also expected to train alongside Filipino boxing icon Manny Pacquiao, who is also preparing for a Nov. 24 bout with American Brandon Rios in Macau, in the Saranggani Congressman's personal gymnasium in Gen. Santos City.
Return to previous page